Hello Reader
As you may already be aware UC Day 2015 has now been and gone, if I am honest I really proud of the event and how it pulled together IT Pros, Sponsors, Speakers and End Users who maybe already working with each other on projects but never physically met in person. New business contacts was made, old colleagues and friends reunited and for me I got to meet some of The UC Architects that I have never met in person but heard their voices over, over, over, over, over, over, over and over again. The feedback I have been receiving on Twitter and Survey Monkey has generally been positive, everyone loved lunch, the feel of the event and the content.
I will be planning on make changes for Audio/Visual, Breakfast, Coffee Stations etc.. but as you can appreciate we dont have large budget like other events so everything has to be carefully planned as I would love to keep this event free to attend.
Sponsors
I have nothing but great respect for all the sponsors that was involved and supported UC Day in its first event. I am hoping that every single sponsors will continue to support us into our 2nd year. Please make sure you follow them on Twitter and LinkedIn for the great product updates and keep them in mind for any project work.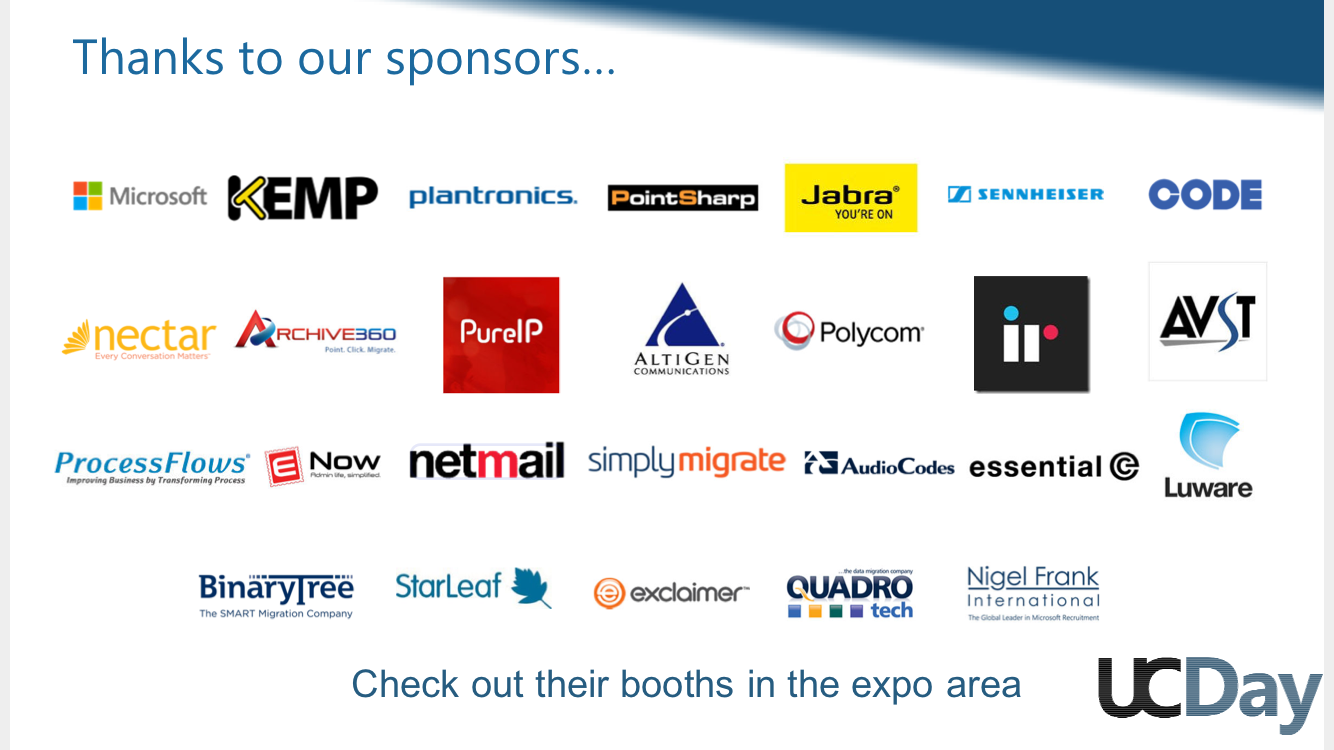 UC Day 2016
As mentioned above myself and the UC Day Team are already discussing planning UC Day 2016 and include improvements to the event so we continue to deliver the best UC Technical Conference in the UK. So watch this space and follow us on twitter/facebook
On a personal note
This was the first time in my IT career I had to stand up in front of a very large crowd and address everyone that made the trip in to Birmingham, so there was a bit of nerves from myself which I hope didnt come across to much in the opening introduction to UC Day. Going from a blogger, podcast editor, user group host, user group speaker and now IT conference speaker in the very short time has a massive learning curve which I plan to keep developing as I would love to a recognised speaker and maybe do MSIgnite one day. As I have got some very good mentors around me from the likes of Steve Goodman and all the UC Architects.
I am so happy that there has been so much positive feedback about UC Day and looking forward to doing it all again next year.
Regards
Andrew Price